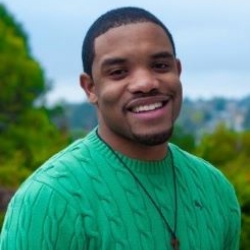 Ja Ronn Thompson
( He/Him/His )
Lecturer
Email: jaronn@mail.sfsu.edu
Biography:
SFSU Alum Ja Ronn Thomson began singing at the age of five.  At 16, he became the director of the youth choir at his home church, City of Refuge Church of God In Christ, where he developed his imaginative, musical talent by frequently leading songs and singing solo pieces.  Ja Ronn founded and became the Executive Director of the Gospel Gators organization and esteemed vocal ensemble Ja Ronn & FLOW.  Ja Ronn led gospel groups and workshops worldwide, including in Costa Rica, Ireland, and Africa with the Mountain of Fire and Miracle Ministries.  Currently, he is the Instructor of the SF State University's Gospel Choir course, which he founded as a freshman here at SFSU nearly 20 years ago.  Over the years, the choir has grown from about 20 students to over 100.  The choir has eight audio recordings and two live DVD/Blu-ray recordings. 
Under his leadership as Choir Director, the Gospel Gators performed/competed at the Staples Center in front of a sold-out crowd and took 2nd place for the entire West Coast at the Verizon How Sweet the Sound Gospel competition in Los Angeles, Ca.  Ja Ronn simultaneously directed the Oakland Interfaith Youth Gospel Choir and the Cal State East Bay University Gospel Choir.  He was appointed to become a music instructor with LEAP, a nonprofit in San Francisco that brings visual and performing arts to classrooms around the Bay Area, SF Arts Ed, Stagebridge Senior chorus, and Oakland Youth Chorus.  Thomson studied privately with musical greats Janice Maxie Reid, Sylvester Henderson, Terrance Kelly, and SFSU's Alumna, Allowyn Price. 
In Ja Ronn's vast experiences, one of the most valuable lessons was this motto to "sing with passion and with no fear," a message that became a mantra to the SFSU Gospel Choir.  One of Ja Ronn's desires as a director and an instructor is to encourage and teach the young and old how to grow in their musical understanding and how to express the emotion of music.  His course is AFRS 230 African American Gospel Workshop.  The class meets on Mondays from 4-6:45 in the Creative Arts Building, room 146.