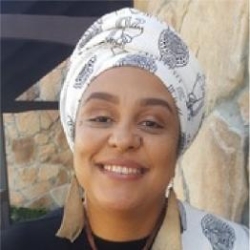 Phone: TBD
Email: clubknowledge2@gmail.com
Location: Ethnic Studies & Psychology 417
Biography: 
Danae Martinez, a motivational speaker and global activist has been speaking to both large and small groups since the young age of 14. Born in a small Oregon town where she was the only African American, Danae's childhood began with experiences that forced her to grapple with racism at a very young age. Her experiences as a young mixed race girl were compounded when in her African American father's absence; she was abused for years by her stepfather and later passed around to many older men including a church leader and other individuals. Despite the abuse, at the young age of 13 Danae decided that it her life's purpose was to fight to make sure no one felt the hurt she felt as a child. Because of her high school activism, public speaking, and community organizing, many community members and her family expected that her activities would take her into college and a successful career, her lack of self-esteem stemming from her many experiences of racism and gender-based sexual abuse made her feel inadequate and undeserving of her self proclaimed purpose. She ended up getting involved in several abusive relationships, which resulted in her struggling as a single mother, on welfare, with three kids by the age of 24.  Her life hit rock bottom when she considered suicide and felt she had nowhere to turn.
Fortunately Danae focused on healing and found help in an alternative psychotherapist and healer who taught her to walk in her dreams and let go of her feelings of inadequacy.  She also decided to go back to school and pursue a degree in African American studies and unbeknownst to her she found healing and learned to love herself within the classroom setting.  Danae often talks about how many times she walked out of class a different person than she walked in and this motivated her to transfer to a University so that she could become an African American Studies Professor. Gradually Danae was able to get back to the life's purpose that she had proclaimed in her childhood and overcome continuous adversity hurled at her by society, her family, and the fathers of her children. Danae graduated with her BA in Africana Studies from Laney and Merritt College and an MA in Ethnic Studies from San Francisco State University. Her thesis research centered on Black/African diasporic resistance movements in South Africa, Jamaica, and the US. While in college she studied in South Africa, Jamaica, and Cuba and continues her activism wherever she is as well as works to connect those movements to each other creating global networks for global struggle. While in South Africa, Danae mentored and taught in the local male prison, participated in organizations including Jubilee South Africa, the Anti-Privatization Forum, Azapo, Azasco, and founded Club Knowledge South Africa (Club Knowledge originally started at Laney College) Danae also worked with other activists to put on a weekly radio show breaking down complicated texts about oppression and resistance to listeners.  Her travels enrich her classroom teachings to include Pan Africanist, Internationalist, and Anti Colonial perspectives throughout all her courses.
While being an adjunct professor, Danae has formulated her classes to uphold the original goals of Africana Studies through changing the conditions of African/Black people. She has volunteered her time all over the Bay Area including teaching college students in Juvenile Hall. Most recently, Danae along with a few community partners organized Afrika Town Garden and Mural project. This project helps to feed a very poor disempowered community, beautify the area, serve as a gathering place for organizing groups in the area, and is attempting to stop gentrification in the downtown Oakland area. Danae's students (with the help of Planting Justice) transformed an empty field that used to be full of hypodermic needles and feces into a beautiful garden in which anyone can come and get fresh fruits and vegetables. Students volunteer to cook Sunday breakfast for the neighborhood, clean up and beautify the Qilombo community center, built cobb ovens and places for homeless people to cook their own food, paint and clean the neighborhood,  and along with Community Rejuvenation Project students helped paint 2 Murals on the premises  Each semester as part of their course students can volunteer to continue the project and extend it to wherever possible. This is what African American Studies looks like in Action!!
Danae loves what she does! Her passion for African American Studies and Ethnic Studies is contagious. She loves working with students both in and out of the classroom and prides herself on creating a fun, challenging, and experiential learning environment that motivates students to know more about their African/ Indigenous roots, love themselves, and to get involved building healthy communities and confronting oppression and racism head on. When taking a course with Danae, students can expect a variety of learning modalities including music, video, books, in class/online lectures, discussions, and debates. Using a variety of learning modalities such as these helps students to really engage with their learning, their teacher, their fellow students, and the world around them. Students are expected to put their whole selves into the learning process and are challenged to critically think so that they can learn and transform themselves and the world around them into a more just place to live and thrive. Danae's goal is to make sure students walk away knowing history from an African centered perspective while learning to really understand what they are seeing and experiencing in the world and this helps students better navigate their lives and the institutions that they interact with everyday. Danae also loves to have in class workshops and activities that have students out of their seats and experiencing learning in an active kinesthetic way. So when you come to her class don't plan to just sit and watch! Plan to learn, have fun, think critically and engage!
Danae Martinez teaches a variety of classes in African American Studies in Peralta Colleges including African American History Africa to 1865 and 1865-1945, Black World Films, Black Economics, The African American Family, African American Culture, and The Prison Industrial Complex: African American Incarceration. She also teaches classes in Introduction to Ethnic Studies and Racism in the US. Danae was also one of the teachers who have been working with Oakland Unified School District and Peralta Colleges in piloting the dual enrollment programs at Oakland High Schools.  Currently she is proud to be teaching African American Studies college courses at both Fremont High School and Oakland Tech.
Among other subjects, Danae Martinez lectures on overcoming adversity and abuse, mixed race identity, creating balance for a holistic lifestyle, community organizing, African economics, anti capitalism, and global African Resistance movements. Although still on her journey of healing and overcoming adversity, Danae Martinez motivates people of all ages to never give up and to use their imaginations to walk in their dreams regardless of the nightmares that may be before them.