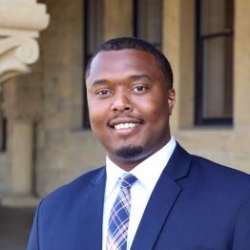 Phone: 81834
Email: darionw@sfsu.edu
Location: E/P 407
Biography: 
Darion A. Wallace is a lecturer at San Francisco State University within the Africana Studies department, having earned his B.A. in Rhetoric and African American Studies from the University of California, Berkeley and his M.A. in International Education Policy Analysis from Stanford University. The foundational pillars of Darion's research sits at the intersection of sociology of education, comparative and historical sociology, and critical race theory. The overarching theme of his research investigates how the organizational features (i.e. curriculum, pedagogy, discipline, tracking, educator professional development, etc.) of primary and secondary schools serve as a socializing agent to shape and inform Black student's racial and political identities. Darion has been recognized as a Mellon Mays Undergraduate Fellow, Public Policy and International Affairs Fellow, and Institute for the Recruitment of Teachers' Associate. His academic communities include the Association for the Study of African American Life and History (ASALH), the American Educational Research Association (AERA), the American Sociological Association (ASA), and the Comparative International Education Society (CIES).
Darion's undergraduate thesis, "The African Black Coalition: An Analysis of Black Student Activism and Counterspace", interrogated how the African Black Coalition (ABC) Conference serves as an educational counterspace for African American college students in California to facilitate their survival and resilience at Historically White Institutions of Higher Education. Darion's master's thesis, "Exploring Diaspora in Educational Discourses: A Critical Investigation of African Heritage Knowledge in History Textbooks from Ghana, South Africa, and the United States, 1950 – 2018", evaluated the representations of African heritage knowledge, slavery, and its aftermaths articulated by Ghana, South Africa, and the United States through a content and discourse analysis of 29 domestically focused and state-sponsored history textbooks.
In addition to lecturing within the Africana Studies department, Darion is a Research and Policy Associate at the Learning Policy Institute (LPI). His work at LPI focuses on supporting the Educator Preparation Laboratory (EdPrepLab) to transform educator preparation by centering equity, deeper learning, and the whole child framework through research, policy, and practice.