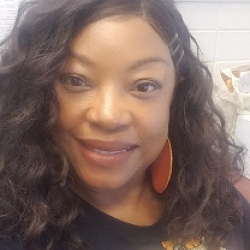 Madeline Flamer
Administrative Analyst Specialist
Phone: 415.338.2352
Email: afrs@sfsu.edu
Location: Ethnic Studies & Psychology 107
Office Hours:
Mon:
10:30 a.m. - 6:00 p.m.
Tue:
9:00 a.m. - 5:00 p.m.
Remote
Wed:
10:30 a.m. - 6:00 p.m.
Thu:
10:30 a.m. - 6:00 p.m.
Fri:
9:00 a.m. - 5:00 p.m.
Remote
Biography: 
Madeline Flamer has managed the Department of Africana Studies office for almost two decades as the Administrative Analyst Specialist. As an Africana Studies Lecturer,  Madeline taught Gospel performance and advised SF State's Gospel Gators for nearly a decade.  The Gospel Gators are an award-winning and much-acclaimed choir that has sung the soul of SF State since 2004. Under Madeline's leadership, Gospel Workshop (AFRS 230) has welcomed countless first-year, transfer, and international students to the distinguished harmony of SF State. True to our Departmental mantra for student success, the Gospel Workshop's collaborative efforts with Gospel Gators help students find their fit and thrive for lifelong learning and development.
Previously, she taught  Introduction to Black Creative Arts courses for the Department and the College of Ethnic Studies that are required for Africana Studies majors (GE LD-C1). One of Professor Flamer's thesis research projects examined Black teachers teaching Black adult learners using creative arts and music. She is acclaimed in the Bay area for her longitudinal practice concerning gospel music and performance, in addition to creative writing and film criticism. She received her M.Ed. from SF State and is also an alumna of SF State who double majored in English Creative Writing and Africana Studies. While she has taught other courses in Africana Studies, her signature courses entail Gospel Workshop (AFRS 230) and Introduction to Black Creative Arts (AFRS 204). These courses directly support the CSU-wide mandates concerning Student Success and Graduation Initiatives (SSGI) and degree completion endeavors such as First-Year Experience (FYE) and related student-centered persistence models implemented by the Department of Africana Studies and the SF State University.
She serves as Advisor to Jabulani (Black Graduation)  Alpha Phi Alpha Fraternity, Eta Sigma Chapter of Alpha Kappa Alpha Sorority, Incorporated. and Zeta Phi Beta Sorority.