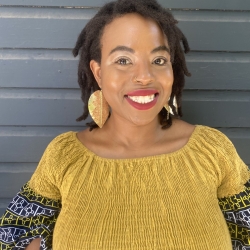 Tiffany D. Caesar
( She/Her/Hers )
Assistant Professor
Email: tiffanycaesar@sfsu.edu
Location: EP 402
Office Hours:
Thu:
1:00 p.m. - 3:00 p.m.
or by Appt. (In-Person or Virtual)
Biography:
Dr. Caesar calls herself a "Black Woman's Archivist" due to her ongoing research on the preservation of transnational black women leaders and engagement with public history: Queen Mother Moore, Margaret Walker, and Phyllis Ntantala. Dr. Caesar was a Mellon scholar at the Margaret Walker Center and a Faculty Fellow for the Institute for Social Justice and Race Relation at Jackson State University. She has participated in cultural heritage preservation initiatives in the United States and South Africa focusing on gender issues, cross-cultural youth dialogue, and social justice issues. She also collaborated with Michigan State University Museum, Stellenbosch Museum, the Hush House Community Museum and Leadership Training Institute, and the Nelson Mandela Museum on educational and gender programming, as well as international partnerships. In addition, she has written successful grants for the Queen Mother Moore Symposium and Celebration for the Iberia African American Historical Society and the 1973 Phillis Wheatley Poetry Festival 50th Anniversary Prologue: Community Dialogues on Historical and Literary Methods in Creative Works for the Margaret Walker Center. Dr. Caesar is a cultural heritage ambassador for the Nelson Mandela Museum in Mthatha, South Africa. In continued advocacy of Black people's equality and civil rights, she has also written a children's book called Where Is Bobby? in response to police brutality in the United States. Her next publication is a co-authored piece entitled Mothering Dead Bodies: Black Maternal Necropolitics. It will be published Fall 2022 in the Meridians: Feminism, Race, Transnationalism Journal.
Dr. Caesar is a member of the National Association of Black Studies, National Conference of Black Political Scientists, Iberia African American Historical Society, Southern Conference of African American Studies Incorporated, African American Intellectual Historical Society, Association of African American Museum, and the National Association of Black Storytellers.